Everyone loves celebrating St. Patrick's Day. After all, it's basically an excuse for people of all backgrounds to get drunk at their local pub, sing silly songs, and wear green costumes or leprechaun hats, with the hopes of inheriting the luck of the Irish for the evening (if you know what we mean)! But with the drinks, comes the laughter—and we've got a hefty St. Paddy's Day serving of it below!
St. Patrick's Day is one of the most renowned Irish holidays in existence. While there might be other holidays and traditions that the Irish consider equally or more important, obviously none of them have resonated as much as good old St. Paddy's Day! So, in the spirit of this awesome holiday, we have put together some of the most hilarious St. Patrick's Day memes and GIFs that the Internet has to offer!
Ironically, a lot of people don't even realize that the first St. Patrick's Day parade didn't even take place in Ireland! The infamous debauchery and alcohol-fueled holiday commemorating the death of Ireland's patron saint actually originated in Boston in 1737 by Irish immigrants. It then spread to the surrounding states, eventually becoming the global phenomenon it is today.
Celebrated in countless countries worldwide by people of all cultural and religious backgrounds, this particular holiday has both spawned and perpetuated a series of Irish stereotypes, funny memes, and GIFs that you'll either find very amusing or highly offensive.
For the convenience of our readers, we've called upon the luck 'o' the Irish, opened every pot of gold found at the end of every rainbow, collected every four-leaf clover we could find, and scoured the deepest and darkest corners of the Internet to compile this list of the 12 most side-splitting St. Patrick's Day memes. Enjoy!
Okay, Fine. You're Excused.
'Tis the Day When We All Become One…with Our Beers.
It's Gotta Be the Green Beer…
Current Mood: This Guy.
Even Google Likes to Join in on All the Fun!
Everyone's Irish on St. Patty's Day!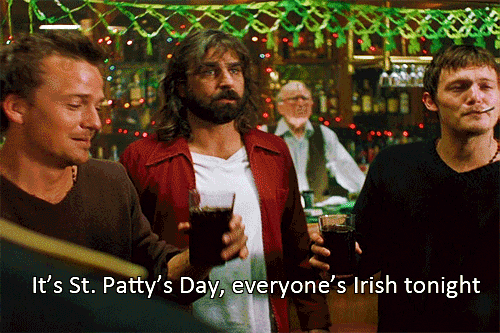 This is Kent Brockman, Reporting Live

We Hear You, Betty!
Parade Shenanigans
So, From All of Us at Earn the Necklace, Cheers!