It's Pride Month, and we are focusing on all your favorite LGBTQ stars from different walks of life! This Sidney Starr wiki will enlighten you about all the amazing things the strong transgender female is doing and why she's turning heads everywhere she goes!
About Sidney Starr
Age
33 Years
Birth
February 5, 1989 Chicago, Illinois
Gender
Female
Height
5 feet 5 inches
Country
United States
Nationality
American
Job
Internet Celebrity, Reality TV Star
Alumni
Bogan High School
TV SHOWS
Maury, Atlanta Plastic, Girlfriends and Champagne, Botched, Black Ink Crew: Chicago, Star
Sidney Starr is getting ready for Pride Month, as she is set to hit Chicago from June 29 to July 2, 2018, for a Black Pride event. She has been hosting Pride events for some time now, and she certainly knows how to pull in those crowds.
Get to know more about her before you catch her live on stage!
Who Is Sidney Starr?
Sidney Starr is known for her "twerking" and her honesty on social media. She has gone through a lot to get to where she is today, and she still has a long way to go. Starr's ambitions are landing a reality TV show job and becoming an even more famous star on the social media stage.
Born in Chicago, Illinois on February 5, 1989, Sidney Starr's age is 29. Although she was raised in the "Windy City" and went to Bogan High School, she has also lived in Georgia.
The social media star goes by the name of Sidney Starr Favors on Facebook and she has become increasingly popular on her online platforms. Sidney Starr's YouTube channel has 23K subscribers and growing, whereas her Instagram account has 166K followers. Sidney Starr's Instagram handle is @sidneystarrbad.
Starr's a hip and go-go dancer, as well as a backup dancer. She was reportedly dating Oblock Montana back in 2013, but it looks like the relationship is no more.
Sidney Starr Is Transgender
Sidney Starr felt that she was a girl stuck in the wrong body ever since she was five. But she couldn't do anything about it until she grew up and became a teen.
On The Breakfast Club, Starr revealed that she would stay away from G.I. Joe's and played with Barbie dolls instead. She said that she had already realized that she was a girl by then, which was contradicting her physical appearance.
She said that she began working on her body once she reached of age and had her breasts, back, and face done. And by the age of 23, Starr decided to go in for a full sex change and become a woman completely.
Starr said that her sex change operation cost her $13,000 and she had to get breast implants as well, which cost her $5,000. (Not to mention what she paid to have the work on her face and butt done.) She said that she is a "hustler" and no one helped her paid for it. And her parents took it very well because they already knew that she felt trapped in a male body.
Since her transformation, Starr has embraced her body and mind as a woman who loves to be special. She's achieving new heights everyday and spreading the awareness about a body positive image.
Starr Says She Didn't Kill Chingy's Career
Chingy and Sidney Starr go way back to 2008 when the rapper was allegedly romantically linked with the transgender model. Starr went on to say in 2010 that she and the "Right Thurr" singer were intimate with each other, but the rapper denied the relationship all along.
"It goes to show you that that person who nobody knew had that much power to come out and say one negative thing about me and a whole mass of people just instantly took to it. And they didn't have not one piece of evidence," Chingy said when he spoke about how the rumors allegedly ruined his career.
Starr took to social media and radio to tell people that she slept with Chingy.
Later, it turned out that Chingy was actually never romantically involved with Starr, and she came forth with the truth and an apology in 2012.
Starr had made the whole thing up and said that it was a mistake. But at the time, she was surely making headlines, which was great for her career.
Chingy recalled the meeting he had with her at a Ludacris concert show and said that all he did was take a picture with the backup dancer. He innocently thought that he was taking a picture with a fan, just like the many women who come up to him. But instead, it turned into a fiasco leading to a decline in his popularity.
"Chingy didn't know anything about me. He didn't know my background. He didn't know I was transgender. I just need people to know that the things I said about Chingy weren't true," Starr said in the videotaped apology.
Watch what Starr had to say about the whole Chingy issue:
Starr's Racy Videos
Sidney Starr has been known for some of her videos on WorldStarHipHop.com, where she can be seen doing her infamous twerking. She is also a singer and has released songs likes "errthang," and "I'm Here Now."
Starr has been very free with her body and doesn't shy away from showing off her feminine side. And she loves to flaunt her curves in all her videos.
She is also famous for a 2011 video she filmed in Times Square with a bunch of men who were unaware that she was transsexual. She can be seen twerking and letting the men on the street feel her body in the video.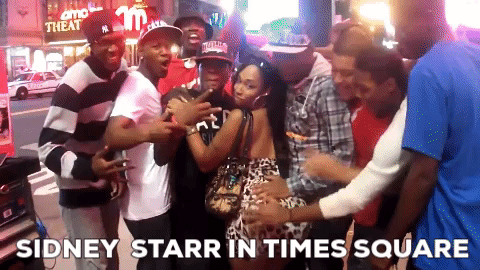 When asked if she has ever been intimate with a rapper, Starr denied any such physical relationship. She said in an interview that she likes to keep men in the dark about her sexuality at first and reveals it later.
Starr remembered an instance where she told a cab driver she would pay the fare in the way of a b**w job. She also said that if push comes to shove and her career fails, she wouldn't be opposed to making a sex tape.
TV Appearances
Starr was featured on one of the episodes of the hit VH1 show, Black Ink Crew. She came to the shop to get a belly button pierced but stunned everyone when she said she wanted to pierce her pe**s!
Charmaine, who was looking at his first customer was shocked and very uncomfortable. But he was soon told that Starr was kidding, and that she only wants to pierce her belly button! It was more of a shock to the crew that she was, in fact, transgender, as they could not even tell!
Sidney Starr has also appeared on Lifetime's Atlanta Plastic, Botched, and Star. She has repeatedly said that she wants her own reality show on TV, but it looks like she might have to wait for the fame a little while longer!