Shane McMahon's much-awaited WWE's Hell in a Cell match with Kevin Owens was a true heart stopper. With a great buildup of suspense as to who would win the highly advertised match, Shane McMahon is in the news now, for an injury. Find out what happened in the purely entertaining fight, and who won the challenge.
It was only a matter of time for Kevin Owens to beat Shane McMahon, and his fans would agree. After a nasty face-off between Vince McMahon (Shane's father) and Kevin Owens in the recent past, Shane McMahon's Hell in a Cell match was rather a blowout. Now with the fight won by none other than Kevin Owens, everybody wants to know about Shane McMahon's injury update! He jumped off a 20-foot tall cage making fans want to know— is Shane McMahon okay?
Here's The Recap of The Hell in a Cell Match
As the crowds went ballistic during the beginning of the match, his cage came down, and Shane McMahon pranced his way onto the stage. His entry was somewhat domestic, and but he was cheered on nonetheless by the fans. Fighting for the McMahon name, and looking to finish Owens and his challenge, he got into the cell with full confidence.
It was time for Kevin Owens to make his entry and the man just walked up to the stage in a steely manner and was determined to win! With a little bit of hesitation or that's what it looked like, Owens entered the cell, and in a flash, he was bombarded by McMahon's fist blows. The brawl was on, and there was no going back now!
McMahon stunned Owens in the very beginning of the fight, but fans knew there was something big coming up from Owens. But the crowds had to wait for a while before Owens did something, and boy did he deliver! Owens tossed his opponent like a soda can in the ring but was met with equal blows.
While Shane McMahon attempted a shooting star press on Owens, he was quick to slide away, sending McMahon bouncing off the ropes. McMahon locked the triangle on Owens, and though it took the champ a while to get out of the lock, he freed himself and power-bombed McMahon onto the ring steps. While Shane McMahon lay on the floor almost motionless, Owens asked him "Why are you making me do this?" and before you knew it, Owens pulled out a table, and with an almost brutal look on his face, pulled McMahon by the hair onto it.
A cannonball was on its way with Owens trying to jump off the stage and onto the table where McMahon was, but he crashed into an empty table instead, as McMahon had slid away. Shane picked up half of the "hell" table, and beat Owens' back with it, sending the contender into a painful spiral.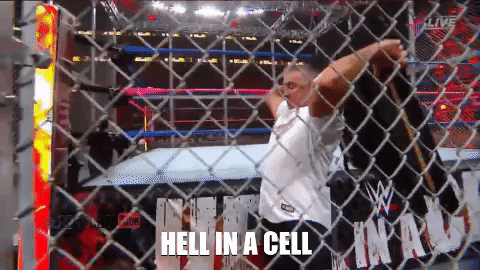 Credits: giphy.com
It was all Shane McMahon from the beginning, and KO fans were getting anxious. He was receiving more blows than the crowds had expected, and it was almost as if, McMahon was going to finish him off. But there was a glimmer of hope for all Owens fans, when he woke up, mustered all his energy and began his plowing. He began climbing the cell, with McMahon still down in a tizzy, but Owens could not jump off the cell.
Instead, he watched McMahon slowly make his way up the cell, and just when he was about to reach the top, Owens tried to pluck him off the cage walls.
With a lot of power-packed kicks, punches, and hits, the fighters looked like they were about to finish the match when Owens started climbing down the cage wall with McMahon following him.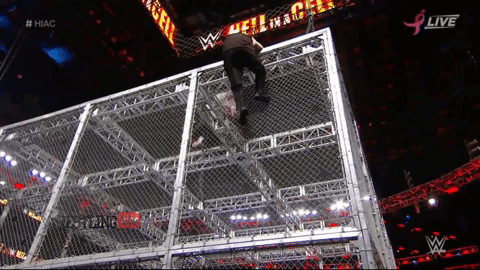 Credits: giphy.com
The highlight of the fight was when Shane McMahon managed to push Owens off the wall making him fall to his doom, and then while he lay there attempting to leap off the 20-foot-high cage onto Owens.
McMahon prepared himself up on top, and just when the crowds went crazy after he leaped off the Hell in a Cell wall, just out of nowhere, Sami Zayn pulled away Kevin Owens with McMahon landing on the announcement table.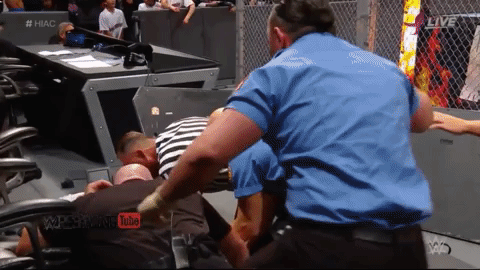 Credits: giphy.com
People were in shock after what they saw—Sami Zayn helped Owens! It was a crazy moment when Shane McMahon lay on the floor, with paramedics hovering around him when Sami Zayn pulled Kevin Owens towards McMahon and piled him on top. The countdown began, and it was all over after the traditional 1-2-3 for Shane McMahon!
Kevin Owens was declared the winner, and Shane McMahon went to a hospital after a brief thumbs-up to his fans.
Is Shane McMahon Hurt? What is His Medical Update?
According to WWE.com, Shane McMahon was taken to a local hospital in Detroit, where it was found that McMahon suffered multiple injuries. After a leap like that, it was a given, that McMahon is badly hurt! It is reported that Shane McMahon injured his neck, fractured his ribs, and dislocated his shoulder, but this was a preliminary diagnosis report, and the details are yet to come out.
#SDLive Commissioner @shanemcmahon's night has just gone from bad to worse. #HIAC pic.twitter.com/C17hxqDvMq

— WWE Universe (@WWEUniverse) October 9, 2017
But it was a great Sunday for all Kevin Owens fans, and though he took some blows and needed Sami Zayn's help, in the very end he was declared the winner. As for McMahon and his father, Vince McMahon vengeance could not be served!