'Tis the season to be jolly! Here are 10 hilarious, rib-tickling Steve Harvey Christmas memes for 2016.
The holiday season is here and Christmas is just around the corner! As families get together to light the Christmas tree and give each other presents, it is the perfect time to exchange jokes, memes, and anecdotes. As the host of Family Feud and The Steve Harvey Morning Show, Steve Harvey has become the target of some hilarious Christmas memes —especially after his Miss Universe snafu! After announcing that Miss Colombia, instead of Miss Philippines, won the pageant, the 59-year-old comedian hit meme success. He took it in stride, and won the Internet by wishing everyone merry Easter instead of merry Christmas! If you're looking for dirty and funny Steve Harvey memes to share with your friends and family this year, here are 10 of the most hilarious Christmas memes for 2016.
#1. The Christmas Bonus
These #SteveHarvey memes are killing me. – @MeredithGeddes pic.twitter.com/lGCUmKasfF

— CFOX (@CFOXvan) December 22, 2015
#2. How Other Holidays Would Turn Out

#3. The Perfect Christmas Present
#SteveHarveyChristmas pic.twitter.com/9limMZoUdZ

— Big Benny (@BigBennyRadio) December 21, 2015
#4. Naughty List
ICYMI: #SteveHarveyChristmas pic.twitter.com/KbDzMSzcrG

— CaptainTouchback (@CaptTouchback) December 26, 2015
#5. Merry Easter!
https://www.instagram.com/p/_-LgmYGKkQ/?tagged=steveharveymemes
#6. Happy 4th of July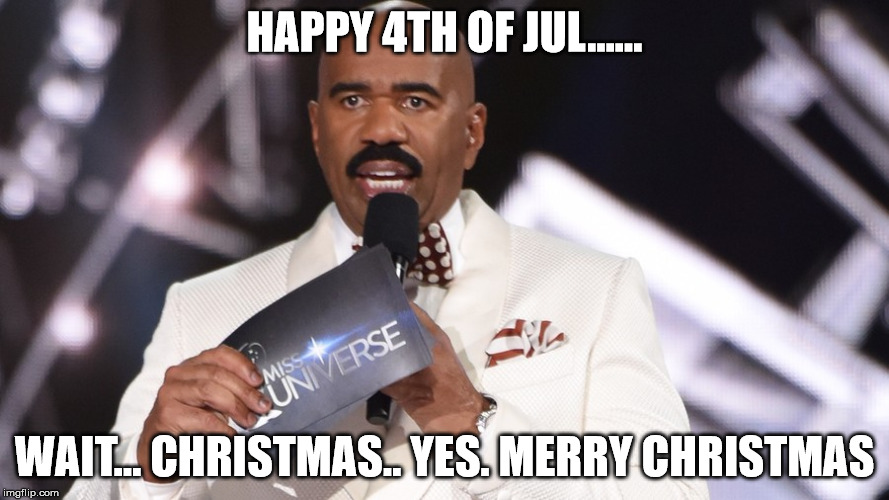 #7. Wrong Day!
#8. The look Miss Columbia gives you when you announce the wrong name.
#9. It's Snowing! No, Wait…
#10. Family Feud takes it to another level!