It seems like only yesterday that we saw the little ginger-haired Mudblood, Hermione Granger. Now she's transformed into a fairytale princess! Literally! From acclaimed actress to UN Goodwill Ambassador, Emma Watson has come a long way, and there is no stopping her.
At only 26 years old, Emma Watson has had a stellar career and has achieved more than we can imagine. From winning the hearts of kids and teens the world over, to impressing everyone with her acting skills, Emma Watson is riding a huge wave of success. But she's known for more than just acting. A vocal women's rights activist, the young star has been named the UN Women Goodwill Ambassador. She also won over her boyfriend, William "Mack" Knight's parents. At the Elle Style Awards Monday night (February 13), the 26-year-old was named Woman of the Year. Dressed to the nines like a fairytale princess, Watson was honored for her acting prowess and her campaigning for gender equality. She is most loved for portraying the wise-talking, incredibly intelligent, Hermione Granger in the famed Harry Potter series. To celebrate her achievements, we have compiled a list of interesting facts about Emma Watson for you right here!
#1. Her Parents Aren't Dentists
http://giphy.com/gifs/hermione-granger-tCjG4mN0e7PKE
Credits: http://giphy.com/gifs/hermione-granger-tCjG4mN0e7PKE
Emma Charlotte Duerre Watson is the daughter of English lawyers, Jacqueline Luesby and Chris Watson. She had no industry connections or acting experience before appearing in the Harry Potter films. She was born in Paris, France where she lived until she was five years old and can still speak French —though not as well as she used to.
#2. She Could Teach Yoga at Hogwarts
http://giphy.com/gifs/hermione-granger-SBtG3u0yhbJZe
Credits: http://giphy.com/gifs/hermione-granger-SBtG3u0yhbJZe
Watson is a certified yoga and meditation instructor. After filming wrapped for the Harry Potter series, she struggled to decide what path to take in her career. So, to get some stability in her crazy life, Watson learned yoga and became certified as an instructor. She could help young wizards as the professor of meditation in Hogwarts!
#3. She Auditioned Several Times for the Role of Hermione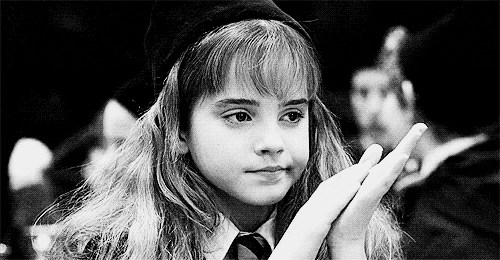 Credits: https://giphy.com/gifs/harry-potter-hermione-granger-clapping-155lQxHOx9Bni
While most Potterheads will know this, J.K. Rowling was involved in the casting process for Harry Potter to make sure the movies were as true to the book as possible. She actually supported Watson for the role of Hermione from her first screen test. However, Watson was called to audition for the movie eight times before she was cast in the franchise that would catapult her to international fame.
#4. She's a Total Bookworm, Just Like Hermione
Credits: https://giphy.com/gifs/hermione-granger-7rX9172cJKxaM
The Noah actress records her thoughts and feelings regularly in journals and diaries. Her advice to fans who are feeling down in the dumps is to "express yourself" like she does through writing in journals every night before bed. Instead of one diary, Watson organizes her thoughts in different diaries, according to her mood. "I keep a dream diary, I keep a yoga diary, I keep diaries on people that I've met and things that they've said to me, advice that they've given me, I keep an acting journal. I keep collage books," Watson said in an interview. She's also a self-proclaimed bookworm!
#5. She is Good at Everything, Too!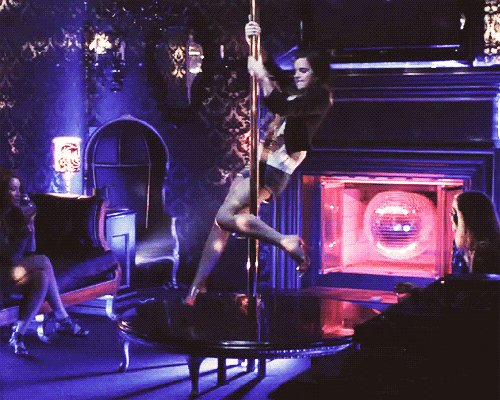 Credits: https://giphy.com/gifs/ge2YxaFD4Wufm
Emma Watson isn't just good at acting. At the age of six, she joined Stagecoach Theatre Arts, a part-time theatre school where she studied singing, dancing, and acting. She trained in different dance techniques, including breakdancing and modern styles. For her role in Bling Ring (2013), she even took pole-dancing lessons, and it looks like they paid off!
#6. She Loves Art and Played Hockey Because Quidditch Isn't Real
Credits: https://giphy.com/gifs/hermione-granger-gif-118OIlYdd3ENQk
Watson loves art and taking art classes. Like writing in journals, art is also a way for her to express herself. She also loved history and English classes, but didn't like math and geography. In school, she was also part of the field hockey team and played tennis, rounders, and netball. (Alas, if only levitation was a sport!)
#7. The Real-Life Hermione Also Loved Studying
Credits: https://giphy.com/gifs/harry-potter-emma-watson-HeZAA7bnMrsgE
The actress had to focus on her studies while filming, just like her fellow child stars in the Harry Potter franchise. They received five hours of tutoring on set daily and attended A-Level (AP classes) in which she received straight As. She enrolled in Brown University to study literature. She decided to go to an American school because they allowed her to take multiple subjects at once, which the British system does not allow.
— Emma Watson (@EmmaWatson) May 25, 2014
#8. She Is Inspired by Some of the Best Actors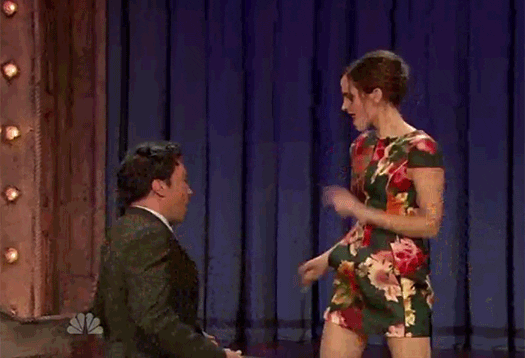 Credits: https://giphy.com/gifs/dancing-emma-watson-o2J5vMalaUww0
Emma Watson is a big fan of Johnny Depp and Julia Roberts, and has great admiration for Natalie Portman and Renee Zellweger. She also loves Alanis Morissette and Justin Timberlake. We are sure that she will get the chance to work with any of these artists in the future!
#9. She Had a Normal University Life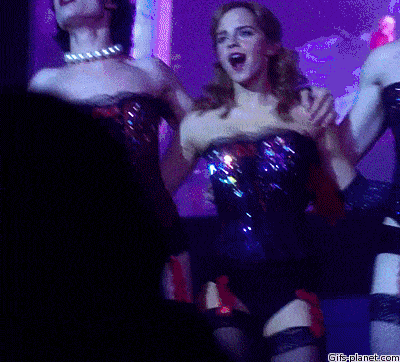 Credits: https://giphy.com/gifs/emma-watson-tranis-OP1v6bqPUwwGQ
While at Brown, Watson said she was never stopped for autographs on campus. When asked about being a celebrity at the university, she said that she was never bullied or harassed by her fellow students. In fact, they were oddly protective of her college experience. She had thrown a party for 100 people on campus and none of the partygoers posted pictures of it on social media to respect her privacy.
#10. She Chose Sleep and Pizza over the Oscars After-Party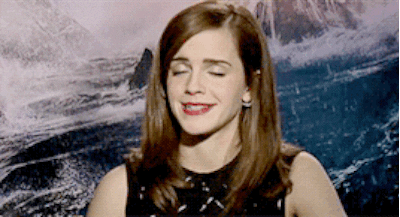 Credits: https://giphy.com/gifs/emma-watson-2GuSal3GylSUw
Emma Watson was supposed to be one of the A-list attendees at the Vanity Fair Oscars after-party in 2014, but when the tired starlet arrived to her hotel room to change, she dozed off instead! The result: she missed the party. But she didn't sweat it. Instead, she stayed in her room and ate some pizza. This is why we love her!