Nothing is impossible when Bachelor Nation puts their minds together and comes up with creative scenarios about The Bachelor. Some of these "spoilers" circulating the Internet are are hilariously fake. But if you haven't caught up with The Bachelor 2017 so far, be warned because this piece contains some real spoilers, too!
Curiosity killed The Bachelor! Bachelor Nation thrives on the likely scenarios that originate from some very creative Bachelor-obsessed minds. From Nick Viall's perennial runner-up status to the horrifying possibility that Corinne could actually win, there's no stone unturned when it come to Bachelor plot twists. While we know who wins The Bachelor 2017 (her name starts with a "V" and ends with "anessa"), life would be boring if we didn't consider each of the 30 contestants to be Nick's final pick. Though we are at the final four, we can't help but stew over the scenarios thought up some by avid viewers. Some of them have became so popular, they were even revealed as spoilers! We scoured the Internet and found some of the worst "spoilers" on The Bachelor season 21, some of which we'd love to see come true. CAUTION: Runner-Up jokes ahead!
#1. Nick Ends up with Corinne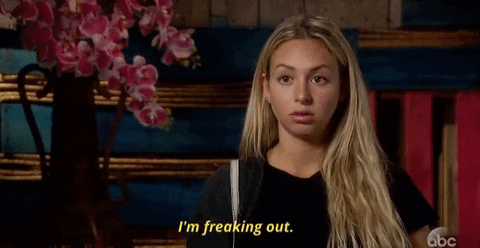 Credits: http://giphy.com/gifs/thebachelor-episode-7-abc-l3q2GUn6hYdfbrNcs
This is one of the most popular and unthinkable spoilers from The Bachelor season 21. If there ever was a most unlikely couple on The Bachelor, Nick and Corinne Olympios would be it. Nick is over a decade older than Corinne, and no matter how perfect she thinks she is for him, the other girls are right to question their relationship. Corinne has done some outrageous things to get Nick's attention, from going topless to sneaking into his hotel room to seduce him. Given that he gives her a rose week after week and that she is in the final four, it's natural to fear Corinne and Nick ending up together.
#2. Nick is Runner-Up on His Own Show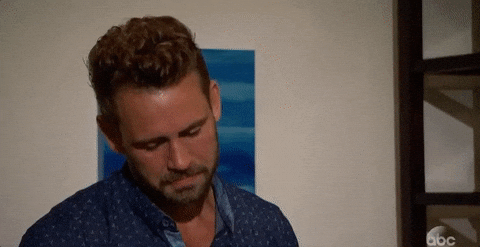 Credits: http://giphy.com/gifs/thebachelor-episode-7-abc-l3q2GUn6hYdfbrNcs
Apologies to Nick, but some of the runner-up scenarios are too good to pass up! We're well aware that he is on The Bachelor franchise for the fourth time and all sorts of perennial second place jokes were cracked at his expense. Topping the list is the one with the first ever openly bisexual contestant on the show, Jaimi King. The chef told Nick that she was in a relationship with a woman in the past. Hilariously, fans couldn't help but concoct all sorts of final rose scenarios with Jaimi. At first, plot-twists accounted Jaimi would be in the final four and steal a girl at the last minute. Now that she's eliminated, Bachelor Nation is counting on her returning to the finale and sweeping off the final winner right from under Nick's nose! Obviously a stretch, but it would be hilarious if it were true!
#3. Fifth Time's a Charm for Nick?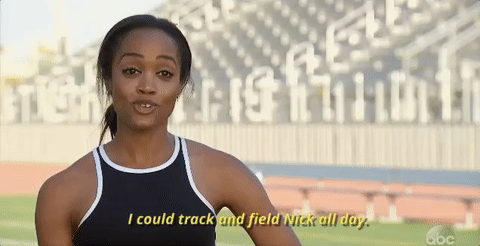 Credits: http://giphy.com/gifs/abcnetwork-episode-3-abc-26xBw1f460Ie5pZGo
Second to Nick's runner-up jokes are the jokes on his repeated televised quest for love. So, what if The Bachelor doesn't work out for him either? Well, since ABC has officially announced that the new Bachelorette is Rachel Lindsay (the lawyer from Dallas), Nick can always try to win her heart. She's the first black Bachelorette cast by the show, and Bachelor Nation loves her too. Bachelor Nation are counting on Nick getting dumped and barging his way into The Bachelorette again to court Rachel!
#4. Liz Sandoz Comes into Nick's Life for the Third Time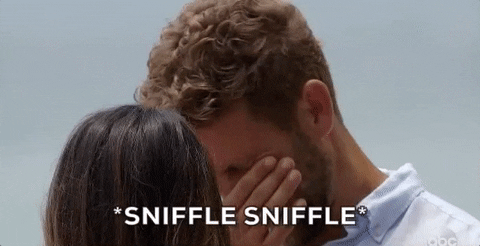 Credits: http://giphy.com/gifs/bachelorinparadise-season-3-bachelor-in-paradise-bip-3oz8xy2JYVtFWJD1kc
Nick's blast-from-the-past, Liz Sandoz, was sent home very early in the season. Bachelor Nation has speculated that producers might cash in on the drama and bring her back. After episode 7 aired, a preview for the next episode shows a brunette returning to the Bachelor mansion and finger's are crossed that it's Liz! But the twist doesn't end there. Since Nick and Liz hooked up nine months before The Bachelor began filming, Bachelor Nation is thinking that maybe Liz is pregnant, and Nick is the baby daddy! The mother of all plot twists! Baby or not, we can just imagine Nick's stress if Liz returns.
#5. Chris Harrison Becomes The Bachelor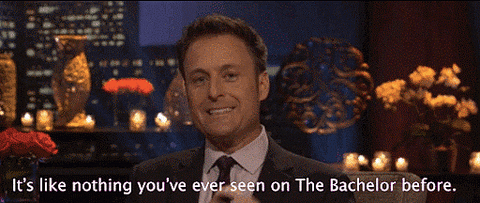 Credits: http://giphy.com/gifs/bachelorette-bachelor-chris-harrison-Qw4X3FqASahtqjnGMHm
Chris Harrison has hosted 21 seasons of The Bachelor, 12 seasons of The Bachelorette, and three seasons each of Bachelor Pad and Bachelor in Paradise. He knows the ins and outs of the franchise more than most at ABC do, and he loves teasing Bachelor Nation with tweets before every episode. It's a long-awaited desire shared by Bachelor Nation who would love to see the 45-year-old as the next Bachelor. He split from his wife of 18 years who he has two children with. Wouldn't it be funny if on Chris' season of The Bachelor, Ryan Seacrest hosted? When asked about it, Chris Harrison said that being The Bachelor "scares the holy hell out of me."
#6. Alexis is Back on The Bachelor and No One Knows it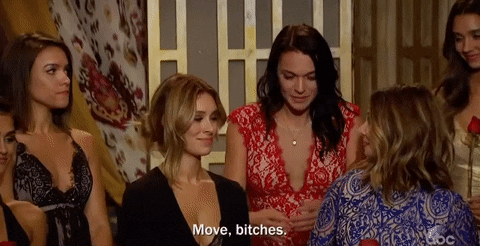 Credits: https://giphy.com/gifs/abcnetwork-abc-d1E1OcitfFU5cj8k
Alexis Waters made a splash from the moment she arrived at The Bachelor mansion in a shark costume mistakenly thinking it to be a dolphin. The aspiring dolphin-trainer became the star of her own little blooper reel and fans truly miss her now that she's gone. What's not to like about her? Maybe if Nick took off his Corinne-tinted glasses he'd see that! Nevertheless, word has it that Alexis is back on The Bachelor's island getaway. After this week's swimming with the sharks group date, everyone is convinced it's Alexis in there ready to take a contestant's place.
#7. Bad-Chad Haunts The Bachelor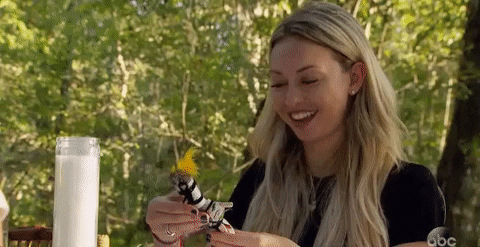 Credits: https://giphy.com/gifs/thebachelor-episode-5-abc-l0EwZs40I7cpx24ve
One of the most polarizing contestants ever, Chad Johnson a.k.a. Bad Chad, gave enough fodder to fuel spoilers for The Bachelor franchise. Some were pretty sure he'd make an appearance this season. About 95% of predictions believe Corinne has channeled her inner Bad Chad. A surprising turnaround was when Corinne's nemesis, Taylor Nolan, pulled a Chad by refusing to leave. Of course, Nick Viall wasn't convinced and sent her off again. Nevertheless, rumors continue to circulate that Chad could return to the franchise in some form.
It's the all-important hometown dates on next week's The Bachelor season 21, episode 8 and tensions run high when Nick meets the girls' families. The Bachelor airs Monday nights at 8:00 p.m. EST on ABC. So, don't miss it!