2018 began with quite a bang in terms of celebrity news. The very first month of this new year was loaded with gossip, rumors, scandals, and news that broke the Internet. We have curated a list of the top four news stories that caused online mayhem right at the beginning of January!
From Kim Kardashian's nude selfies to Paris Hilton's snowy engagement to the many shocking sexual assault scandals, the Internet has been a vault for breaking news in the entertainment world, all at the turn of the new year. Just when fans think that they've seen it all, shocking news stories hit the Internet and go viral.
Check out the celebrity news of 2018 that made it on our list below!
#4. Donald Trump's Cheating Scandal
The Wall Street Journal was among the first few to announce that Trump's lawyer had paid a porn star a reported $130,000. So, did Donald Trump cheat on Melania Trump?
The 45th POTUS had allegedly had an affair with the adult star just after his wife, Melania Trump, delivered Barron.
However, the payment was made to Stormy Daniels before the 2016 presidential elections, buying her silence for a scandal-free candidature. The news went viral, and tweets wouldn't stop pouring in regarding Donald Trump's trustworthiness.
The media also says that the Trump's have not been seen together ever since the revelation. According to reports, Donald and Melania even rode in separate vehicles to the State of the Union address.
#3. Paris Hilton and Chris Zylka's Engagement
This was a surprise not only for Paris Hilton, but to all her fans as well! Chris Zylka gave the heiress the most amazing proposal at more than 5,000 feet off the ground in Aspen.
Zylka presented Hilton with a huge diamond ring worth a cool $2.0 million in early January, while surrounded by the snow-capped mountain scenery. And now, fans are anxiously waiting for their wedding and all the glitter that's likely to go with it!
Although there is no date set for the wedding yet, we're sure that the 36-year-old is going to make it extravagant!
We know that because the ring itself was huge!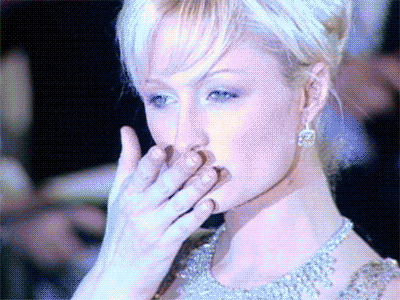 #2. Khloe Kardashian's Pregnancy
Even though fans had their fair share of Khloe Kardashian's pregnancy news at the end of 2017, it wasn't out in the open until 2018. So, all the fans of KUWTK who don't believe in spoilers were pleasantly surprised.
The gender of the baby was kept a secret until the start of the new year, and even now it's still a debate. But the press is convinced it's a baby girl for Kardashian and baby daddy Tristan Thompson.
#1. Kim Kardashian's Nude Selfies
Can we forget the "Bo Derek" braids? Before the nudes were out in the public eye, Kim Kardashian received some serious social media backlash from celebrities for calling her braids "Bo Derek Braids" when it was evident that they were Fulani.
The controversy took a cultural route because Fulani braids are a tradition in Africa. So, she should have called them by their proper name.
But, her most recent shocker was Kim Kardashian's nudes, of course! She initially broke the Internet with her champagne bottle shoot for Paper magazine in 2014.
Now, Kardashian's selfies (which leave nothing to the imagination) have created a stir among social media users. She even captioned one of them, "nude selfies till I die."
Well, that's certainly good news for her fans! Poor Kanye?